Race
information
Khon Kaen International Marathon 2024
Race Shirt & Finisher Shirt
Race Categories and Age Divisions
1. Application can be online at the Website: http://www.khonkaenmarathon.com
2. Application can be in person at the Sports Center, Khon Kaen University – at the 
Khon Kaen International Marathon Project Coordination Room, Sports Center (Opposite Chon Hen Chob Swimming Pool) on official days and time. 
3. The procedure and application periods shall follow what is set and announced by the Implementation Committee.
1. Application fees
Category

Application fees

Thai Runners (Baht)

Foreign Runners (Baht)

Marathon

1,000

1,300

Half Marathon

800

1,100

Mini Marathon

600

900

Walk&Fun Run

300

300

VIP Runners

3,000
2. THAI runners aged below 19 years old and the runners over 60 years of age will pay only half of the application fee for all categories, except the Health and Fun Run.
3. The VIP runners will receive a runner T-shirt or a souvenir T-shirt as arranged by the Implementation Committee, a cup or a trophy and a medal.
4. Payment
4.1 Thai runners can pay by using the QR Code provided or pay by a credit card. The applicant shall be responsible for the credit card charge in accordance with the respective bank. 
4.2 Foreign runners can only pay with a credit card. The application fee already includes the credit card charge, except the Walk and Fun Run.
5. Refund – There is no refund for all cases except when it is the mistake of the Khon Kaen International Marathon Committee or the case of pacers who paid before being selected.
Schedules, Release Points and Finish Lines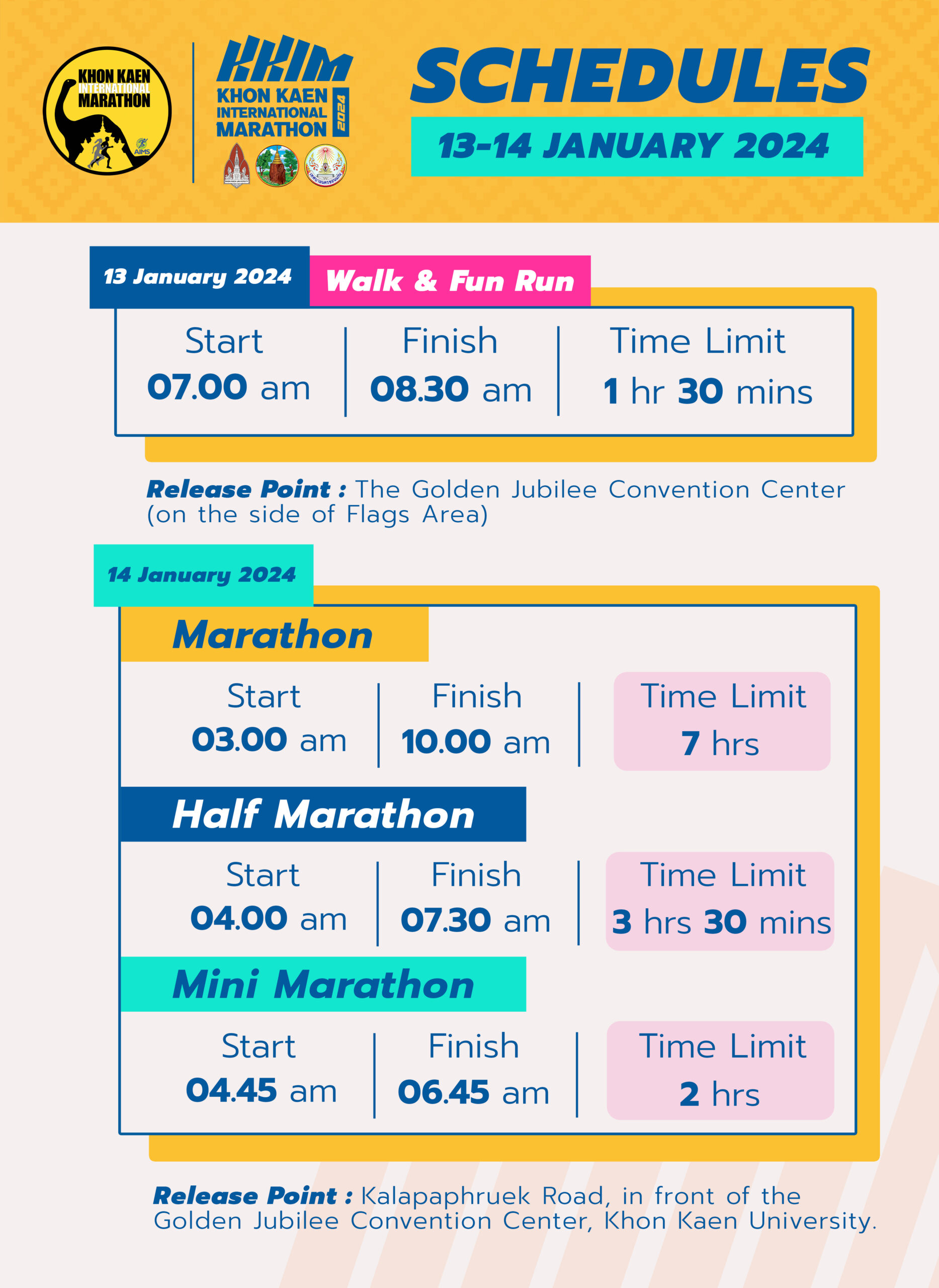 Saturday January 13, 2024
| | | | |
| --- | --- | --- | --- |
| Category | Start Time | Finish Time | Time Limit |
| Walk & Fun Run | 07.00 a.m. | 08.30 a.m. | 1 hour and 30 minutes |
Release Point – The Golden Jubilee Convention Center (on the side of Flags Area), Khon Kaen University 

Finish Line – In front of Khum Si Than, the Cultural Center, Khon Kaen University
Sunday January 14, 2024
| | | | |
| --- | --- | --- | --- |
| Category | Start Time | Finish Time | Time Limite |
| Marathon | 03.00 a.m. | 10.00 a.m. | 7 hours |
| Half Marathon | 04.00 a.m. | 07.30 a.m. | 3 hours and 30 minutes |
| Mini Marathon | 04.45 a.m. | 06.45 a.m. | 2 hours  |